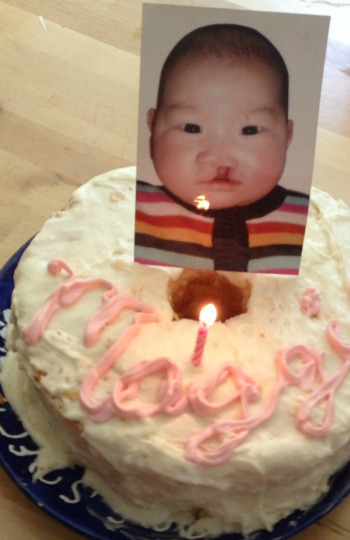 We marked two important events in the life of our family today. Today is the first birthday of our soon-to-be-adopted daughter. It is also the second anniversary of my dad's home-going to heaven.
In the aftermath of dad's accident the Lord ministered to us through tender mercies. And today marks another example of His kindness toward us in the midst of our grief.
When we were praying for a referral, we only asked for three things: that our little girl would be as young as possible, that we would get a referral as quickly as possible, and that her orphanage would have a special program called Half the Sky. God answered all of those prayers in an amazing way, making it immediately apparent to us that He had chosen this little girl for our family.
When we realized she was born on the 1 year anniversary of dad's death, I was astonished.
In this adoption process I have seen the Lord's hand at work in the details.
I cried today, missing my dad. And I cried for missing my girl, too. And I wondered if her birth mother cried for missing her.
But I also rejoiced.
I rejoiced in the knowledge that my dad is enjoying his eternal reward, and he will never cry again.
I rejoiced that our daughter will never spend another birthday as an orphan. Soon we will begin to make up for all the lost time.
And I rejoiced that God chose to bring forth new life in our family on exactly this day.
…"to comfort all who mourn, and provide for those who grieve in Zion–to bestow on them a crown of beauty instead of ashes, the oil of joy instead of mourning, and a garment of praise instead of a spirit of despair. They will be called oaks of righteousness, a planting of the Lord for the display of his splendor." Isaiah 61: 3